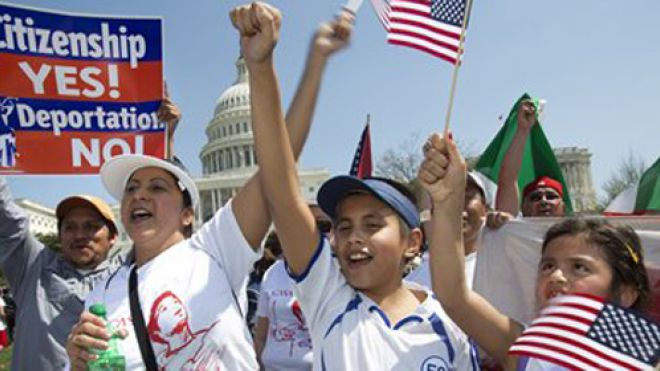 As we move into 2014, there is a glimmer of hope that we will see meaningful immigration reform soon. Today the Daily Beast reported that on Capitol Hill, five bills attacking various components of reform have been voted out of committee, with others in the works.
It is crucial that we work to see immigration reform happen as soon as possible. We must reunite the numerous families who have been divided by a cruel system. We have known too many people who have been treated like Salomon Guevara. Mr. Guevara came to this country seeking protection from a violent regime in El Salvador. Our country promised him that protection, but last month he was deported, separated from his wife and kids just before Christmas.
As Congress continues to debate the details of immigration reform legislation, it is important for all of us who care to get involved.
How can you help?
Sign up for updates with immigration activist organizations. You can do an internet search for local immigration activist groups, or you can join national groups like Immigration Now. Groups like Immigration Now will keep you up-to-date on events and rallies you can participate in.
Send a letter to the editor. Your letter has the best chance of being published if you send it to a local or regional paper. A sample letter with instructions can be accessed here: Send a letter to the editor regarding immigration reform.
Call or send a letter/email to your U.S. Congressional representatives. Here is a directory that allows you to find your representatives: Congressional representatives directory
Call or send a letter/email to your U.S. Senators. U.S. Senators directory
We have drafted a sample letter that you can modify with your representatives' names and personalize with your own thoughts, beliefs and stories about immigration.
Sample email:
Dear [Congressional representative's name goes here],
As my representative, I ask you to work for meaningful immigration reform this year. This issue is of crucial importance to me. I wholeheartedly disagree with the way immigrants are treated under our current system. Families are forcibly separated, which is unhealthy for all parties, particularly for children.
Please work for immigration rules that allow for families to be reunited. I am paying attention to your votes and action on this issue, and I am asking my friends and family to do the same.
Thank you for your work.
All the best,
[Your name here]
How have you become involved in the fight for immigration reform? Join us on Google+ to tell us your story.
If you or someone you know needs the help of an immigration attorney, please contact us to schedule your consultation today.