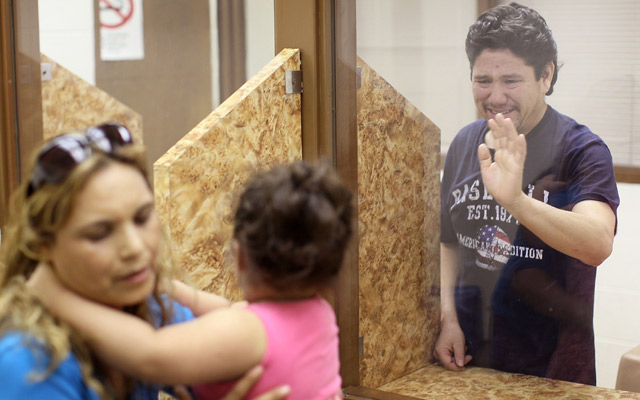 "I think it is relly (sp) unfair to punish my father that tries to do the right thing. I would like him to stay for my birthday, my Mom's birthday, Christmas, and New Year's. My brothers, my mom, and I beg you to let my Dad stay." These heartbreaking words are excerpted from a letter to Immigration and Customs Enforcement (ICE) written by the nine-year-old daughter of Salvadoran immigrant, Saloman Guevara, who was deported on December 13. The details of Guevara's story reveal the cruel and desperate reality of most undocumented immigrants and why our immigration system needs a major overhaul.
Imagine you are Guevara's wife. Your husband leaves home one morning (November 19) after the Dallas ICE office asked him to come in for a review of his status, Temporary Protected Status (TPS). You know he had filed all of the required paperwork, and he had never missed an ICE appointment. Because your husband qualifies to remain in the country, you feel optimistic that he will come home for lunch with good news.
Instead, he doesn't come home. You start to worry. Your three kids (two American citizens and one eligible for DACA, the Deferred Action for Childhood Arrivals Act) begin to worry. "Where's Daddy?" they ask, as it gets later and later. He doesn't call you. As far as you know, he is missing.
You decide to go to the ICE office to find out what happened at your husband's appointment, and you learn that he was detained. ICE had not even allowed him to call you and tell you what had happened.
Who is Salomon Guevera?
Salomon Guevara came to the United States in 2000 as a foreign national with Temporary Protected Status, which allows residents from violent and oppressive countries to stay in the United States legally. He raised his family here, and he paid all of his taxes. Because of his original Temporary Protected Status, he has a valid social security number.  He was a Sunday School teacher at his church near his home in Watauga, a Ft. Worth suburb.
Why was he deported?
Guevara's problems began in 2011, due to a paperwork error. That error caused his status to lapse, and a deportation order was issued. Guevara filed an I-246 (a stay of deportation), and was granted a one-year stay. This year, he filed another I-246. Even though he was still eligible for TPS due to the situation in El Salvador, he was denied with no explanation given.
Perhaps the problem was a misdemeanor conviction for theft that provided cause for deportation. Guevara had maintained that we was innocent, stating it was the result of a mix-up with his job which resulted in the wrong pickup of goods from a business.
His court-appointed attorney suggested he plead no contest, and he was given Deferred Adjudication. This judgment doesn't mean the same thing for foreign nationals compared to U.S. citizens. For citizens, Deferred Adjudication is not even part of one's permanent record. But, it is viewed as a guilty conviction by American immigration law even if Guevara never admitted guilt.
When it was discovered that local police never interviewed a key witness that would have proven Guevara innocent, ICE was asked to delay Guevara's deportation and look into the matter. ICE refused.
Perhaps Guevara's detention was tied to the fact that ICE is required by law to keep a certain number of immigrants detained at any time. This has led to charges that ICE is detaining any undocumented foreign national they can find just to meet this quota.
Guevara's situation highlights the inhumane treatment immigrants often face when they are up against our system. Guevara should not have been ripped from his family in such a heartless way. He should not have been removed so abruptly from his home when he was working, paying taxes and complying with ICE. He should not have been denied a fair police investigation into a crime he said he didn't commit.
Our immigration and justice systems are riddled with obstacles that no one should attempt to navigate without the help of qualified specialists. At Margaret A. Donnelly, P.C., our mission is to unite families like Guevara's. If you or someone you know is facing a situation like his, call us immediately to schedule a consultation. We will fight to keep you from experiencing his kind of tragedy.