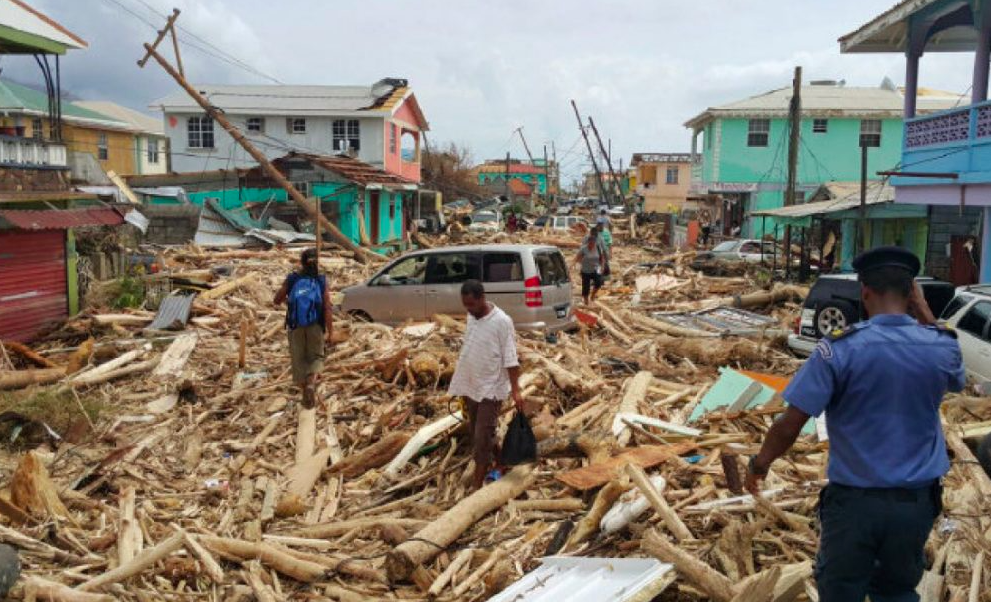 Puerto Rico is still in crisis. We must pay attention to what's happening there, not only because it's good to have empathy for our fellow Americans, but also because it affects us here, as well. We must have the wisdom and foresight to look at the consequences of our Hurricane Maria response and choose the best possible outcomes for our American family.
To understand the future, we must first look at the past. Puerto Rico has had a different kind of relationship with the United States compared to the 50 states. Essentially, we "won control" of Puerto Rico following the Spanish-American War in 1898, but we never actually granted residents of this territory all of the same rights enjoyed by citizens who live in the 50 states. For example, Puerto Rico is not allowed to have voting representatives in Congress.
Puerto Ricans who live in Puerto Rico cannot vote for the U.S. President in the general elections. (However, and this is worth remembering later, those who move to one of the 50 states are allowed to vote.) While we did grant citizenship to the island's residents in 1917, this move "conveniently" allowed us to draft 20,000 Puerto Ricans into service in World War I the following year. We have treated them as less-than-first-class-citizens since the beginning of our relationship. Is it because they are Hispanic? Some say yes.
What is going on right now in Puerto Rico? Hurricane Maria, a Category 5 storm, devastated Puerto Rico on September 20. Sixteen people died, and even now, more than a month after the hurricane, more than 80 percent of the island is still without power, more than 30 percent lacks reliable drinking water, and 83 percent of the wastewater treatment facilities are still not functional. The agricultural and tourism industries – which make up large sectors of the economy – will take a long time to revive.
The Trump Administration has taken its time in responding to this crisis. Trump himself has complained about Puerto Ricans who have criticized his response, using manipulative language to displace the blame. According to Trump, all Puerto Ricans except those who have a political agenda are grateful to him. By accusing everyone who speaks out against his response as being politically motivated, Trump is attempting to discredit his critics. Fortunately, most of us can see through this game.
As San Juan's mayor has pointed out, Puerto Rico needs massive aid that the Trump Administration has been reluctant to send. The result: an incredible number of Puerto Ricans have left or are planning to move from Puerto Rico to Miami or New York.
On Sunday, Puerto Rico Governor Ricardo Rosselló warned the
Washington Post
that without a comprehensive aid package,
there would be
"
massive migration to other states, which will bring a whole host of other problems to Puerto Rico and the states."
Many Puerto Ricans can't wait for months to have the power turned back on. Many of them can't wait for months to resume their jobs and rebuild their lives. Without an appropriate federal response to this disaster, poverty will overtake Puerto Rico. A mass exodus of Puerto Ricans to the United States will depress property values on the island. Additionally, this influx of Puerto Ricans to cities like New York and Miami will increase competition for jobs and housing in these locations.
What will happen in the future because of the Trump Administration's poor response to Hurricane Maria? As mentioned earlier, Puerto Ricans don't have a vote in our Presidential elections until they move to the mainland. Due to their anger at Trump over his disaster response and their belief that Trump is prejudiced against Hispanics, the influx of Puerto Ricans to purple states like Florida may just turn such states blue.
In an ideal world, everyone would vote purely on their beliefs about the issues. But when the top representative of the Republican party presents a toxic image of the group he leads, then people may choose to vote against this party because of their emotional scars rather than their intellectual leanings. When you add the Puerto Ricans who are likely to vote Democrat because of Trump's Maria response to the Mexican-Americans who are also upset at Trump because of his border wall and general anti-Hispanic attitude, Trump may completely transform the results of our future congressional and presidential elections. His words and actions may destroy the power of the Republican party.
Whatever we, as individuals, may think about politics, most of us would agree that now is a time for unity. Now is a time for empathy. Now is a time to join together to make sure our fellow Americans are equipped to rebuild in the face of disaster. Now is a time to rebuke those who are tearing us apart and tearing us down.
Please join us in asking the Administration to take a wise, empathetic approach to disaster relief in Puerto Rico. In times like these, we must fight for each other.