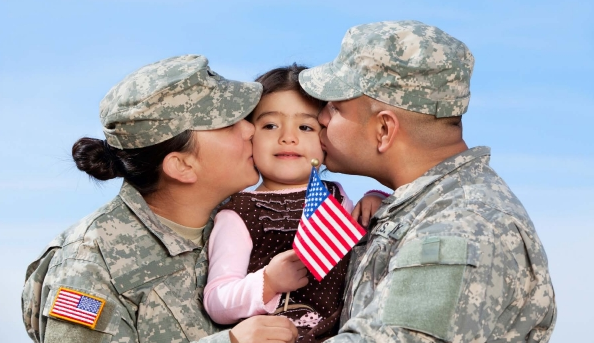 Are you in the U.S. Armed Forces or a veteran, or do you know someone who is? If so, we are pleased to tell you about a wonderful opportunity that may affect you and your family. On November 15, the Department of Homeland Security released a Policy Memorandum which announced that they will offer Parole in Place to the spouses, parents and children of U.S. active military troops, veterans and reservists. We feel that this initiative is a wonderful step forward in national immigration policy; it will serve to support those who have committed to protect and defend this great nation.
As the mother and daughter of veterans, I know how important it is to show our troops – past and present – that we are here for them. This initiative will allow members of our military to stop worrying that their close family members will be deported while they are deployed. It shows honor to those who have risked so much for our country by welcoming their families into this nation, our shared home.
What is Parole in Place?
Essentially, the November 15th Parole in Place memorandum tells us that the spouses, children and parents of active military, veterans and reservists including the National Guard will now be granted the right to stay in the U.S. while they apply for a mechanism known as Parole in Place, which is temporary legal status, even if they are already in the country illegally.
This policy addresses what has been one of the most damaging aspects of U.S. immigration policy: the forced separation of families. In my 30 years of experience as an immigration attorney, I have witnessed far too much heartbreak and turmoil caused by flawed policy which requires immigrants without papers to leave the country to collect visas they applied for through marriage to an American Citizen or to a Lawful Permanent Resident, or through some other family tie. Included in this other group are children under the age of 21 and parents of those serving in the Armed Forces. In a notorious Catch-22, once those immigrants go abroad to get their visas, many are barred from returning to the U.S. for years. I've seen too many mothers divided from children and too many husbands separated from wives because of this issue.
Under the new policy, those immigrants who are in military families will not have to leave the U.S. in order to complete their visa applications. Particularly important is the ultimate benefit for the children, parents and spouses of United States Citizens who may apply for Lawful Permanent Residence (green card) without going abroad, provided they qualify. While Donnelly & Associates will continue to advocate for policy changes which will fix the problem for all families, we celebrate this victory on behalf of our military families.
If this policy change may benefit you and your military family, please contact us today to schedule your consultation.
What do you think about the November 15 Parole in Place memorandum? Please tell us your opinion in the comments section below.