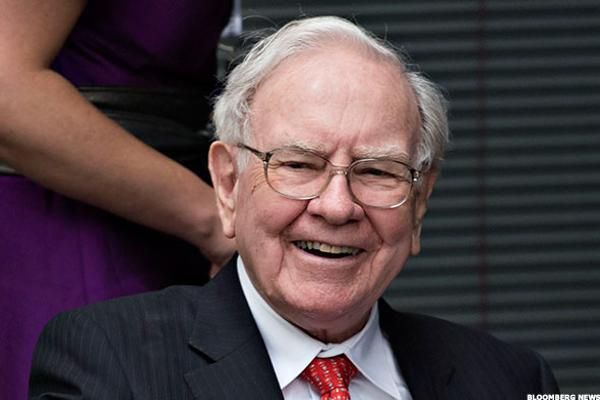 In his annual letter to Berkshire Hathaway shareholders released on Saturday morning, Warren Buffett (Berkshire Hathaway CEO and the world's third richest man) states, "You don't have to be an economist to understand one of the key factors that has made America great: immigration." Buffett goes on to say that America's economic growth has been "miraculous." He says one of the main reasons for that has been a tide of "talented and ambitious immigrants" to the U.S. Absolutely. We couldn't agree more.
That is why we must work together to strengthen opportunities for immigrant entrepreneurs in this country. The United States became a world power due to the imagination and innovation of immigrants who came to this land looking for opportunities to bring their ideas to life. Today, our outdated immigration policies kill such opportunities. In effect, our current policies suffocate our country's potential to attract and retain the world's most inventive minds, ruining our chances of remaining an innovation leader and dampening our prospects of reaping the economic rewards that come with that position.
Consider this: blue jeans, ATM machines, Google, Yahoo, Facebook, Uber, blow dryers, bicycles, the telephone, the blender, the first video game console, Prozac, the artificial heart, LASIK eye surgery, Microsoft Word and Excel, Siri, HDTV, and Paypal are just a few of the American inventions created by immigrants who were allowed to make their home in the U.S. An enormous number of American jobs have been created due to these inventions, and our country has claimed great wealth from the same.
We should be actively courting immigrant entrepreneurs. Instead, our system presents them with a series of obstacles that prove to be a time-wasting distraction for some and a deterrent for others. We are losing out to other nations like Canada, Chile, and the United Kingdom that understand the importance of inventors, innovators, and job-creators.
Alessandro Babini's story as told to Entrepreneur Magazine is all-too-common among immigrant entrepreneurs. Babini, the inventor of Humon (a wearable device that gives health read-outs), is a French citizen, born in Paris to a French mother and an Italian-Lebanese father. Since the U.S. does not have an entrepreneur visa, Babini has had to "patch together a life" on American visas that may be more complicated than the software in his wearable device. The visa that let him spend one postgraduate year in the United States has run out. Now the fate of his company, and the jobs it created for Americans, remains uncertain, and Babini fears deportation.
Babini did not come here to "take a job away" from Americans, as is so often the complaint about immigrants. He came to create jobs. He launched a startup that he may one day be deported away from. This fate is not uncommon. Some entrepreneurs are sent home and then run their U.S.-based companies from abroad. Others quit the U.S. and relocate to a more welcoming country. Some, like Babini, hang on as long as they can, hoping we will create a solution.
Babini wants to apply for an entrepreneurship visa. It currently doesn't exist. Our immigration laws haven't been updated in decades. In the early 1990s, when our immigration laws went through major revisions, we had a much different economy. The laws were built for that economy. The large, conventionally structured businesses which were dominant in the 1990s needed highly skilled workers, so visas were created for these positions.
But since then, in the words of Stuart Anderson, executive director of the National Foundation for American Policy, "the world has changed, but immigration hasn't." Much of today's economic growth comes not from large companies but from small businesses and tech startups. Since there is no current visa for entrepreneurs, some of the brightest minds in the country are being deported because they don't fit into any of the current immigration categories.
So, if an immigrant who has a temporary student visa graduates and wants to launch a business, or an immigrant gets an H-1B to work at Google and then wants to leave to launch a startup, there's no category for them to fit into.
Hanlin Hong's story is familiar to many entrepreneurs who have had to leave the U.S. He came to the United States from China in September 2011. As he earned a master's degree at Worcester Polytechnic Institute and then a PhD at MIT, he developed an interest in humanlike robots and artificial intelligence. He launched a robotics company called Tech-No-Logic in Massachusetts in 2013 and, two years later, pulled in his first several-hundred-thousand-dollar investment. Hong's company began developing a robot that could dwell inside a home and help complete everyday tasks like cooking and cleaning. But once his student visa ran out, he could find no other way to stay in the country. He applied for an H-1B visa and was denied. So in January 2016, he moved his company back home to China.
The impact of immigrant entrepreneurs is greater than most of us know. About 10 percent of American workers are employed by private, immigrant-owned firms, according to New American Economy, a bipartisan group that studies the role immigrants play in the U.S. economy. About one-fourth of the engineering and technology companies started in the U.S. between 2006 and 2012 had at least one key founder who was an immigrant, according to the Kauffman Foundation, a research group that advocates for entrepreneurial policy. Immigrants to the U.S. are nearly twice as likely to start businesses than native-born Americans, the group found, and more than half of privately held American companies worth $1 billion or more (so-called unicorns) had at least one immigrant cofounder. Tesla and SpaceX founder Elon Musk, Uber cofounder Garrett Camp and serial entrepreneur (most recently a Moderna Therapeutics cofounder) Noubar Afeyan represent just a handful of foreign-born entrepreneurs who have contributed greatly to America's economy and culture of enterprise and innovation. These entrepreneurs, who are bringing great value to our country, are forced to jump through hoops in order for an uncertain chance to stay here.
For this reason, representatives with the U.S. Chamber of Commerce, Microsoft, Facebook, Dropbox, AOL, Airbnb, IAC, Netflix, Qualcomm, Yahoo and Google, among others, have all argued over the years for creating an entrepreneur visa. Prior to the election, there had been "a good amount of support on both sides of the political aisle," says Jason Wiens, Kauffman's policy director. "Many Republicans and Democrats support allowing some immigrant entrepreneurs to grow their companies." But the election of Donald Trump and the focus on illegal immigration has complicated matters. "My reading is it's just been caught up in the politics of larger immigration issues," Wiens says. "No bipartisan proposal has really gotten any traction, let alone come close to passing."
Since Donald Trump is a businessman, there is hope that he will know the value of immigrant entrepreneurs. Is the time finally ripe for a meaningful entrepreneur visa to be created? We certainly hope so. Please join us in telling our leaders that we want immigrant entrepreneurs to receive the welcome they deserve. To contact President Trump and Congress, go to: https://www.usa.gov/elected-officials
In the meantime, our highly experienced and successful team of immigration law specialists are here to help you navigate your immigration options. We can help you figure out if you may qualify for an H-1B visa or the closest option we have to an entrepreneur visa, the investor visa. Please contact us today for details.