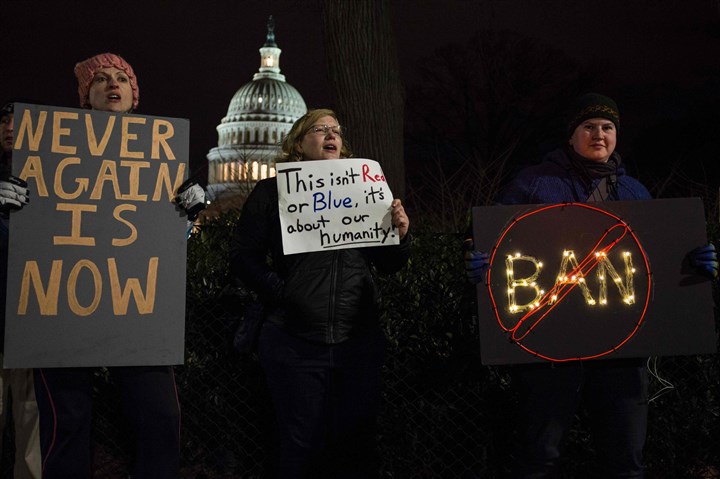 There is so much to rage against when it comes to this Administration's first actions on immigration that it is hard to know where to begin. Likely, you have heard about Trump's actions. However, in this article we will make sure the details are clear and you know how to get involved to help us transform the current problems into a more positive future for all of us who live together in this nation and on this planet.
President Trump's Immigration Order
On Saturday, President Donald Trump moved to ban more than 218 million people from the United States, denying entry to all refugees and temporarily halting the entry of citizens from a seven Muslim countries. Initially, his ban applied not just to travelers and refugees but also to green card holders who had left the US and needed to get home. These green card holders, as legal United States residents, have the constitutional right to be here. Once the Trump administration realized this truth, they corrected this part of the ban and allowed green card holders to return to their homes.
Why did he issue the order? The rationale for this move was to protect Americans from terrorists. However, as stated in this politico.com article: "There has not been a single terrorism-related death caused by foreign operatives coming into the country since 9/11. From Fort Hood to Orlando, jihadist killings have been the work of American citizens and green card holders. The strong consensus in the counterterrorism community remains that the principal danger today continues to come from homegrown extremists."
Plus, immigrants as a group commit crimes at a lower rate than the native born, and in the U.S. that is true of second generation immigrants as well.
Negative Consequences
We have already seen many negative consequences resulting from this immigration order.
The Muslim immigrant ban was blamed for a "risk-off" reaction across global financial markets, undercutting equities, including U.S. stocks, while bolstering assets viewed as traditional havens,
including gold
, the
Japanese yen
and, for a while,
U.S. Treasurys
.
Reaction Against Trump's Order
What Can We Do?
Concrete actions we can take to change this and other harmful immigration policies:
This is a time for unity and solidarity. This is not a time for finger-pointing or blaming others who may have voted differently than us or who disagree with us. As much as possible, we must work together with everyone who disapproves of Trump's problematic immigration policies.
Heather Richardson, professor of History at Boston College, tells us we are being played. She says, "What Bannon (a Trump advisor) is doing, most dramatically with last night's ban on immigration from seven predominantly Muslim countries– is creating what is known as a "shock event."
Such an event is unexpected and confusing and throws a society into chaos. People scramble to react to the event, usually along some fault line that those responsible for the event can widen by claiming that they alone know how to restore order.
Trump's Executive Order has all the hallmarks of a shock event. It was not reviewed by any governmental agencies or lawyers before it was released, and counterterrorism experts insist they did not ask for it. People charged with enforcing it got no instructions about how to do so. Courts immediately have declared parts of it unconstitutional, but border police in some airports are refusing to stop enforcing it.
Predictably, chaos has followed and tempers are hot.
The shock event game is designed explicitly to divide people who might otherwise come together so they cannot stand against something its authors think they won't like… If the shock event strategy works, though, many of us will blame each other, rather than Trump's administration, for the fallout.
But because shock events destabilize a society, they can also be used positively. We do not have to respond along old fault lines. We could just as easily reorganize into a different pattern that threatens the people who sparked the event.
A successful shock event depends on speed and chaos because it requires knee-jerk reactions so that people divide along established lines. This, for example, is how Confederate leaders railroaded the initial southern states out of the Union.
If people realize they are being played, though, they can reach across old lines and reorganize to challenge the leaders who are pulling the strings. This was Lincoln's strategy when he joined together Whigs, Democrats, Free-Soilers, anti-Nebraska voters, and nativists into the new Republican Party to stand against the Slave Power.
Five years before, such a coalition would have been unimaginable. Members of those groups agreed on very little other than that they wanted all Americans to have equal economic opportunity. Once they began to work together to promote a fair economic system, though, they found much common ground. They ended up rededicating the nation to a "government of the people, by the people, and for the people."
These wise words regarding the lessons we can use from history should guide us to stand together, speak out in one voice, and change the fate that is being imposed upon us.
If you need the help of an immigration lawyer, please contact us today to schedule your consultation. We have over 40 years of experience as immigration law specialists and are here to make sure your transition to the US is as smooth as possible.