This time of year is magical for so many of our kids. They are counting the days until winter break. They're competing with their sisters and brothers to win the advent calendar candy as they mark one day closer to Christmas. They're telling the mall Santa what they want him to put in their stockings, and they're dreaming of Christmas morning. But for some children in this country, holiday magic is elusive. In fact, some children simply want freedom for Christmas, a sad reality in the "land of the free."
Today the Guardian published the Santa letters of children aged two to nine years old who are spending their second consecutive Christmas behind bars in an immigration detention center in Pennsylvania. It's no surprise that, in their letters, the children ask for a few toys. A six-year-old girl asks for an iPad, some candy and Frozen-themed headphones. The youngest, a two-year-old-boy, simply asks for "things".
But each letter carries the same core message. One girl wants "to get out of here, to be with my daddy". The little two-year-old boy asks for "a present of my liberty".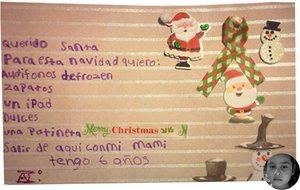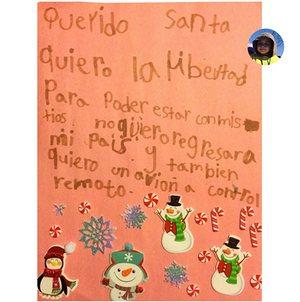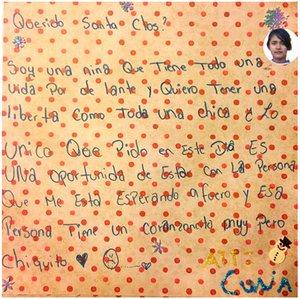 According to The Guardian,a "two-year-old boy called Said has spent almost half his young life detained in a room which he shares with his mother Amparo, 27, and two other mother-and-child pairs. They were picked up on the border of Texas as they tried to enter the US unlawfully. Amparo counts the days they have been held by US immigration authorities: 422.
The mother and son fled Honduras in October 2015 when Said was just 22 months, having been issued death threats from local drug gangs. As a single mother, Amparo was targeted by "pandilla" gangsters for protection money, until she feared for her own safety and her son's life. She left their home and community and set off on the perilous journey to the north. Amparo still prefers to endure the hardships of incarceration in the US rather than be deported, despite the evident harm it is doing to her child.
"This is a very sad, very painful time [for] my son," she told the Guardian. "I knew I couldn't trust my own government in Honduras, that they wouldn't protect us. But we came here to the United States of America thinking that this was the home of human rights, that we would find protection here. I never dreamed we would be treated this way," Amparo said.
Every day my son watches the visitors arrive and he shouts through the window: ​'Take me away! Take me with you!'"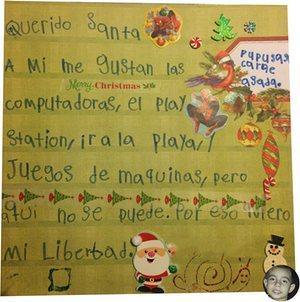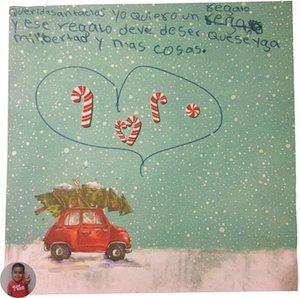 Studies have revealed the damage caused by prolonged incarceration to children. A report by Human Rights First in October 2015 pointed out that harm can set in within the first two weeks of lockup, let alone years. Among the well-documented symptoms are PTSD, depression and suicidal thoughts – all of which have been recorded by psychologists examining children in immigration detention.
The families held at the center have all been issued expedited deportation orders, but those are on hold pending a legal challenge brought by the ACLU against the terms of their removal. But immigration rights groups argue there is nothing preventing ICE from releasing the mothers and children, as they are legally obliged to do, pending resolution of the challenge.
They point out that the government is in breach of a federal court ruling, Flores v Lynch, which gives immigrant children detained with their mothers equal rights to those detained alone. That puts ICE under an obligation to release the children into the care of outside relatives or groups without any delay.
This Christmas, we wish these children, their families and all residents of this great nation will get the gifts of freedom, hope, security and unlimited possibilities.  If you need advice regarding immigration questions, please contact us today. Our highly experienced staff has an excellent record of successes, and we are here to make your transition to the United States as smooth and easy as possible.