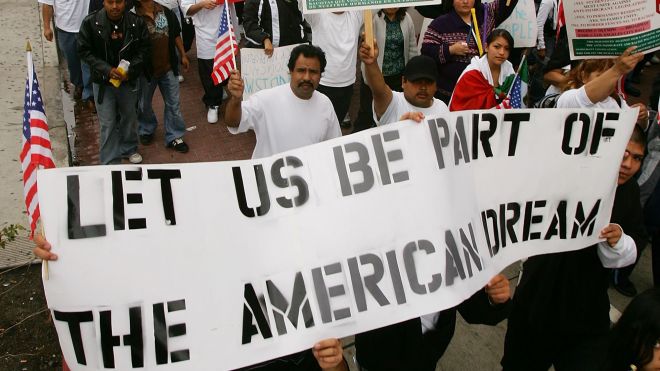 Since we found out the results of the presidential election earlier this month, our law practice has been flooded with people who are worried about what a Trump presidency might mean for immigrants. Will people who escaped domestic violence or war be forced to return to these situations? Will people who were brought here as children be banished to a "home" country where they don't know anyone and have no work prospects? People are scared that the dreams they have risked so much for and worked so hard to achieve may be destroyed. They fear their families may be divided across borders. They worry their children are destined for danger and hopelessness.  
These fears are the result of the unknown. Our president-elect promised many changes during his campaign, but what will he actually be willing and able to accomplish while in office? Because we don't know the extent to which our new president will actually be able to change our immigration system, we highly recommend that anyone concerned about their status consult with an immigration attorney as soon as possible.
Now, let us look at what we do know about Trump's immigration policy plans.
Border Wall:
During the campaign, Trump pledged to build a border wall, but doing that across 2,000 miles of desert would be wastefully expensive and likely will not happen. Extending the 650 miles of wall or fencing that currently exist would require congressional approval because of the billions of dollars that the project would cost. Trump told 60 Minutes that in "certain areas, a wall is more appropriate," but "there could be some fencing."
Trump has said that Congress may need to create a legal mechanism to withhold remittances that Mexicans in the U.S. send back to their families in Mexico because this revenue stream could help pay for construction of the wall.
But the election left Republicans short of the 60-vote majority in the Senate that would allow them to override a Democratic filibuster that could block legislation, meaning Republicans may need to craft a compromise to get the wall extended.
Rep. Mario Diaz-Balart, a Republican from Florida and one of the lead immigration negotiators in the House, said he would be willing to accept extensions to the border wall as long as part of the package includes legal protections for undocumented immigrants who remain in the U.S.
Deportation Force:
At one point in the campaign, Trump said he would create a deportation force that would quickly deport the estimated 11 million immigrants living in the country illegally. To accomplish this goal, Trump can direct the Department of Homeland Security to ramp up deportations. Trump would need congressional approval to hire more Border Patrol agents to monitor the frontier and Immigration and Customs Enforcement agents to round up immigrants living in the interior of the country. Trump doesn't need any new money to change the focus of the immigration agents who are already in place, said Ali Noorani, executive director of the National Immigration Forum, an immigrant advocacy group.
"If the Department of Homeland Security secretary greenlights, simply in tone, the ramping up of enforcement actions, that is a system that can wreak havoc very quickly," Noorani said.
However, in an interview on "60 Minutes" on November 13, Trump said his administration would prioritize deportations of immigrants with criminal records. While he estimated that 2 million to 3 million people fall under that category, studies suggest that only about 300,000 of the estimated 11.5 million people living in the United States illegally have felony records, a lower ratio than American citizens. If criminals are deported and other undocumented immigrants are allowed to pursue a path to citizenship, then Trump may actually deport far less people than Obama did (The Obama administration deported 2.5 million immigrants over eight years).
Favor Skilled Over Unskilled Immigrants:
Trump wants to adjust the current legal system, reducing the million or so immigrants admitted yearly and rearranging laws to bring in mostly those who are skilled, educated and entrepreneurial and will contribute mightily to the economy. He has proposed a major policy change: "to select immigrants based on their likelihood of success in U.S. society, and their ability to be financially self-sufficient … to choose immigrants based on merit, skill and proficiency."
How will this policy change affect businesses that rely on unskilled labor, such as farms? We don't know, but we will advocate for common sense practices that allow all American businesses to thrive, including those that depend on unskilled immigrants.
Deportation Protections such as DACA:
Trump could unilaterally revoke the deportation protections President Obama created under the Deferred Action for Childhood Arrivals program, known as DACA. More than 840,000 young undocumented immigrants have been approved for that program, which protects them from deportation for two-year periods and grants them work permits.
Stephen Legomsky, professor emeritus at Washington University School of Law in St. Louis and a former chief counsel at U.S. Citizenship and Immigration Services, said Trump could revoke every single DACA case very simply. The program was created by an executive memorandum by Obama's secretary of Homeland Security, and President-elect Trump's secretary could rescind that memo or issue a new one.
It would be more complicated to revoke their work permits. Under U.S. law, Homeland Security must provide written notice that it plans to revoke the permits and recipients have 15 days to respond..
But would Trump take these actions? With overburdened immigration courts, it will already be very difficult, if not impossible, to quickly deport all of the nation's undocumented immigrants. DACA recipients are perhaps the least likely targets since they have clean criminal records, they've been working or going to school and they've already been vetted by the federal government.
Refugee Programs:
A president has very broad, unilateral discretion to determine which refugees — those fleeing war and other threats to their safety — are admitted into the country.
The number of refugees accepted by the U.S. each year is set exclusively by the president. President Obama has increased the number of refugees from 70,000 in 2015 to 110,000 in 2017. Trump repeatedly bashed that decision, saying refugees from countries like Syria were threats to national security because they had not been properly vetted and could include terrorists. The State Department says Syrian refugees undergo the strictest background checks.
As president, Trump could drop the total number of refugees to zero.
Congress can ask questions and object to things, but ultimately it's up to the president.
Immigrant Categories, Such as Muslims:
Presidents have the power to bar access to the U.S. to specific immigrants or entire classes of immigrants. That power is laid out in the Immigration and Nationality Act, which allows a president to block would-be immigrants if they are deemed "detrimental to the interests of the United States."
This provision has been used sporadically over the decades to bar dictators, military strongmen and others who worked to undermine democracy in countries like North Korea, Venezuela, South Sudan and Libya. But it has never been used in the way or the extent proposed by Trump, who had initially called for a temporary ban on all immigrants from all Muslim countries.
Such a proposal would likely faced a slew of lawsuits from groups claiming it violates First Amendment protections for freedom of religion. In recent months, Trump altered the description of his ban, saying he would target immigrants from "terror-prone regions where vetting cannot safely occur."
If Trump worded such a proclamation based on terrorism grounds and not on religious grounds, then that order may hold up in court.
If you are have questions or uncertain about your future in this country, please contact us today to schedule your consultation. Roughly 9 million green card holders are currently eligible for citizenship, according to the most recent Department of Homeland Security statistics. Our highly experienced team of immigration experts can help you take action to make sure you and your family have done all that you can do to protect yourselves from the unknown. Please let your friends and family know that our law practice will continue to post updates as new information becomes available while our new President is in office.