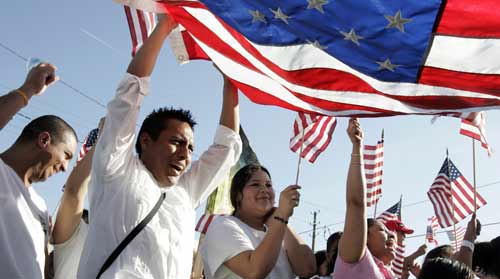 Today, we are pleased to announce good news. As immigration rights advocates, we are continuing to chip away at the inhumane, unconscionable rules that have forced thousands of families to separate against their will, making mothers or fathers live in different countries from their spouses and children for up to 10 years. Over our nearly 40 years of experience as immigration lawyers, the stories about these long-term separations are among the most heartbreaking our clients have shared with us. That is why small victories – like the coming expansion of family unity regulations – are so important.
The U.S. Citizenship and Immigration Services (USCIS)'s final rule expanding the provisional waiver process to allow certain individuals who are family members of U.S. citizens and lawful permanent residents to more easily navigate the immigration process goes into effect on August 29, 2016. This final rule builds on a process established in 2013 to support family unity by reducing the time that eligible individuals are separated from their family members while they complete immigration processing abroad.
This process was put in place to address hardships affecting U.S. citizens who have family members that have been penalized for living in the U.S. without permission. To punish these family members for missing paperwork approving their stay in the U.S., the law has required them to leave the U.S. for 3-10 years (sometimes longer) to return to their country of origin in order to interview for a Green Card.
Not only have these punitive measures torn families apart, causing emotional pain to all involved family members, but they have also stunted the economic productivity of future U.S. citizens and their households. Instead of gaining work experience, schooling or starting new businesses in the U.S., individuals who are seeking status as lawful permanent residents must move to their home countries and find temporary employment for their temporary lives abroad. These individuals and their families have to pay for two homes in far apart lands. These realities impede the growth of the American economy.
In 2013, the provisional waiver of inadmissibility was provided only to parents and spouses of U.S. citizens.  The new regulations that will go into effect at the end of August expand the availability of this waiver to parents and spouses of lawful permanent residents. This waiver will allow people who entered the country illegally to be able to go to their interview abroad and return to the United States.  It's a meaningful change because it was unavailable to the illegal parents and spouses of lawful permanent residents before.
To qualify for a provisional waiver, applicants must establish that their U.S. citizen or lawful permanent resident spouses or parents would experience "extreme hardship" if the applicants are not allowed to return to the United States. The USCIS will publish clarification on the definition of "extreme hardship" by August 29. Please contact our office to find out more about this rule or with other immigration questions. Our highly trained staff has an excellent record of successes, and we are here to help with all of your immigration needs.