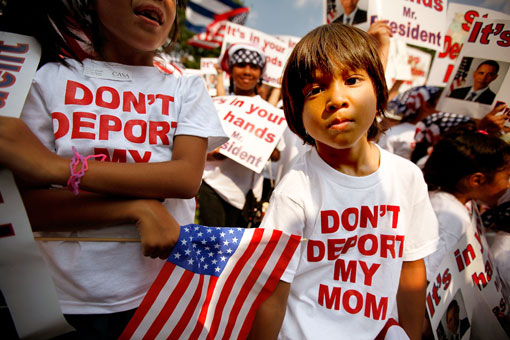 On April 18, the eight current members of the Supreme Court will hear arguments regarding the state of Texas' challenge to President Barack Obama's 2014 executive actions that would defer deportations, issue employment authorization documents, Social Security numbers, and earned income tax credits to about 5 million aliens. We stand in support of the President's actions and believe that a favorable ruling will not only benefit immigrants but also our nation at large.
Why? One of the many consequences of an aggressive immigration enforcement system is the separation of children, often U.S. citizens, from their unauthorized parents. According to the Pew Hispanic Center, approximately 5.5 million children in the United States, including 4.5 million U.S.-born citizens, live in mixed-legal status families with at least one unauthorized parent. These children are at risk of being separated from a parent at any time. Parents facing removal must frequently make the decision whether to take their children with them or leave their children in the U.S. in the care of another parent, relative, or friend. In many cases, a parent may determine that it is in their child's best interest to remain in the U.S. However, in some cases, a parent's ability to make such decisions is compromised when their child enters the child welfare system, which can prompt a series of events leading to termination of parental rights.
A report by DHS reveals that 46,486 parents of U.S.-citizen children were removed from the U.S. during the first six months of 2011, accounting for over 20 percent of all individuals deported during that period. This is likely an underestimate since parents may be reluctant to reveal that they have children.
The executive actions would allow more parents and children to stay united. Besides the obvious emotional problems of separating families who want to be together, there are many other problems that extend to U.S. society when we wrench these families apart.
Problems Endured by U.S. Society When Immigrant Children Are Separated From Parents
Increased Physical and Financial Burden on Child Welfare System. If a parent is booked into a local jail, they may be allowed a phone call to make short-term care arrangements for their children, only to discover later that an immigration hold has been issued (also known as a "detainer"). But they are not allowed to make a second phone call to make further arrangements for their children and alert caregivers about their possible transfer to an immigration detention center. As a result, family members or friends looking after a child may be left with the burden of determining a child's long-term care. When a parent is denied the opportunity to make care arrangements for a child, the safety and well-being of the child are compromised and the likelihood of the child entering the child welfare system is significantly increased.

Behavioral Problems in School Leading to Disruption for All Students

. A study by the Urban Institute documented that within the first six months following separation from a parent, about two-thirds of children demonstrated adverse behavior changes, such as frequent crying, increased fear and anxiety, and changes in sleeping and eating patterns. Following the initial six months of separation, behavioral changes were still notable among more than 40 percent of children. Additional studies have found that the fear of possibly losing a parent can negatively impact a child's emotional well-being. For example, one study conducted by the University of Arizona following the passage of the state's immigration law (S.B.1070) revealed that students demonstrated increased anger and stress-related ailments, including stomach aches, migraines, and panic attacks.

Poor Educational Outcomes Resulting in Adults Unprepared for Work Force. Increased stress and anxiety associated with immigration enforcement can have a detrimental impact on a child's school performance. In addition to disruption in learning as a result of absences, studies have shown that children who have been separated from a parent experience difficulty in concentrating and other negative behavioral changes in the classroom.

Housing Insecurity, Food Shortages Using Resources from Social Programs and Charities. The Urban Institute study documented increased housing insecurity, including crowded living quarters, and food shortages as a result of the loss of a detained or deported parent's income.

Unreported Crime Resulting in Less Security for All Americans. Several studies reveal that children of immigrants often do not differentiate between local law enforcement and immigration enforcement officers, even in communities where local law enforcement is not engaged in enforcing immigration law. As a result, children of immigrants view all law enforcement officials as a potential threat and avoid police officers, reducing the likelihood of crime reporting.

In cases where the father is separated from his family but the mother is still present to raise the children, there are still severe problems that our society experiences as a result.

Increased Poverty Resulting in Reliance on Social Programs. When a father is forced to be absent from his family, the mother may be required to behave as both mom and dad. She may need to work more hours outside the home – perhaps even taking two or more jobs to support the family. In fact, according to the American Academy of Pediatrics, fatherless children are 5 times as likely to live in poverty.

Increased Likelihood of Violent Behavior and Incarceration. The FBI studied the 17 kids that have shot their classmates in little towns like Paducah, Kentucky; Pearl, Mississippi; and Littleton, Colorado. All 17 shooters had only one thing in common. They had a father problem. Young men who grow up in homes without fathers are twice as likely to end up in jail as those who come from traditional two-parent families…those boys whose fathers were absent from the household had double the odds of being incarcerated — even when other factors such as race, income, parent education and urban residence were held constant. (Cynthia Harper of the University of Pennsylvania and Sara S. McLanahan of Princeton University cited in "Father Absence and Youth Incarceration."

Increased Risk of Behavioral Disorders, Depression and Suicide. 85% of all children that exhibit behavioral disorders and 63% of youth suicides are from fatherless homes. (Source: What Can the Federal Government Do To Decrease Crime and Revitalize Communities?)

Increased Burdens on Schools and Lack of Proper Training for Work Force. 71% of all high school dropouts come from fatherless homes (Source: What Can the Federal Government Do To Decrease Crime and Revitalize Communities?) Children from low-income, two-parent families outperform students from high-income, single-parent homes. Almost twice as many high achievers come from two-parent homes as one-parent homes. (One-Parent Families and Their Children, Charles F. Kettering Foundation, 1990).
Not only does separating parents from children cause a host of problems for their families and our society, but parents who are forcibly separated from their children have every intention to attempt an illegal crossing once again. That's why it only makes sense to support a Supreme Court ruling that upholds the President's executive actions.
The President's Executive Actions
What exactly do the President's executive actions allow? The executive actions crack down on illegal immigration at the border, prioritize deporting felons not families, and require certain undocumented immigrants to pass a criminal background check and pay taxes in order to temporarily stay in the U.S. without fear of deportation.  The actions expanded the Deferred Action for Childhood Arrivals (DACA) program (a program that deferred undocumented immigrant youths from deportation in order to focus on education or employment opportunities following a 2012 executive action by Obama). The 2014 executive actions remove the age cap and applies for individuals in the U.S. as of January 1, 2010. Created by the 2014 actions, Deferred Action for Parents of Americans and Lawful Permanent Residents (DAPA) grant deferred action status to certain undocumented immigrants who have lived in the United States since 2010 and have children who are American citizens or lawful permanent residents. Deferred action is not full legal status, but in this case would come with a three-year, renewable work permit and exemption from deportation.
According to a report by Raul Hinojosa, the economic benefits are especially compelling: "The DACA expansion and DAPA would generate 130,000 new jobs in California alone, increase the collective wages of undocumented immigrants in California by more than $5.5 billion annually, and support public programs with $3.8 billion in new business, personal and sales taxes annually."
It is time to stand up against leaders who want to block common sense policies like DACA and DAPA from being enacted. Our law firm has nearly 40 years of experience specializing in immigration law, and we understand just how important these executive actions are for our immigrants and our country.
Please contact us today if you have any questions about immigration law or need our expert team to help you or your family transition to the life you want in the United States.