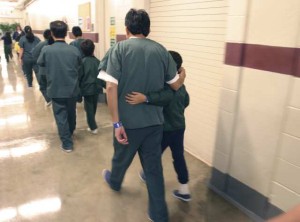 This week, we are celebrating a victory in the fight for the rights of immigrant children. Thanks to Judge Dolly Gee, a federal judge in Los Angeles, immigrant children will soon be released from U.S. detention centers. According to Cindy Carcamo of the Los Angeles Times, the ruling, released Friday evening, said that children should not be held for more than 72 hours unless they are a significant flight risk or a danger to themselves and others. Judge Gee gave federal officials until October 23 to comply with her order.
In her initial report, Judge Gee blasted federal officials, saying that children had been held in substandard conditions at the two Texas detention centers. She found "widespread and deplorable conditions in the holding cells of Border Patrol stations." In addition, she wrote that federal officials had "failed to meet even the minimal standard" of "safe and sanitary" conditions at temporary holding cells.
"It is astonishing that defendants have enacted a policy requiring such expensive infrastructure without more evidence to show that it would be compliant with an agreement that has been in effect for nearly 20 years," Gee wrote. The agreement referenced in the ruling refers to a 1997 legal settlement — known as the Flores agreement — that set legal requirements for the housing of children seeking asylum or in the country illegally. In July, Gee found that the government had violated that agreement. She repeated that finding on Friday.
The Obama administration is currently detaining an estimated 1,400 parents and children at three detention facilities, two in Texas and one in Pennsylvania. Peter Schey and Carlos Holguin, who launched the lawsuit against federal officials and have served as court-appointed lawyers for all immigrant children in federal custody since the 1997 settlement, said the judge's order would help protect immigrant children "from lengthy and entirely senseless detention by the Department of Homeland Security in unsafe adult lockdown facilities run by private corporations raking in millions of dollars in profits." Schey, who is also president of the Center for Human Rights and Constitutional Law in Los Angeles, said Homeland Security Secretary Jeh Johnson should be ashamed of his detention policy that "over the past year has caused thousands of innocent children to needlessly suffer severe psychological and often physical harm."
Judge Gee's order is undoubtedly a step in the right direction, but it still leaves open two key questions: Will the U.S. also release the parents — mostly mothers — of children who are in family detention? Or will families be separated?
As advocates for the immigrant rights and human rights, we hope that this ruling will be interpreted to mean that parents will also be released from detention. If parents are detained while their children are released, this ruling will open up a host of additional problems. Who wants to see the government separate children from loving fathers and mothers who desperately want to remain united? Should any child or their responsible guardians be locked away in a prison-like setting while awaiting their immigration judgment? We think not.
Not only is it problematic to keep parents locked up while their children are released, but detention is also unconscionable in cases in which immigrants qualify for legal asylum because they are looking for protection from dangerous conditions in their home countries.
By detaining people in such cases, i
s our government violating the legal rights of families seeking
asylum or refugee status
in the U.S.? Immigration activists say the answer is yes. They say refugees who have already suffered immense trauma should not be forced into detention centers when – according to the law – they have done nothing wrong. Instead of detaining families, immigrants should be released on their own recognizance or on bond while their immigration cases are pending.
We believe that detention is not the best way to handle immigrants who are awaiting judgment. Please join us in voicing your thoughts on this issue to your political representatives and presidential hopefuls. We must join together and raise our voices to protect those who don't yet have enough power to protect themselves while in the United States.
If you or a loved one needs the help of an immigration lawyer, please contact us today to schedule your consultation. We are here to listen to your story and give you the support you need to manifest your American dream.