The Law Firm
Case Studies
Testimonio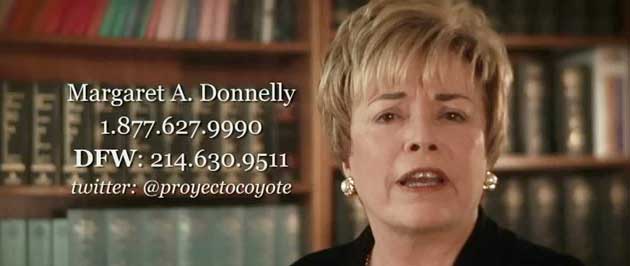 EXPERIENCE:
Let the facts speak for themselves.
She began practicing Immigration and Nationality Law in 1980.
Margaret A. Donnelly has been certified in Immigration and Nationality Law by the Texas Board of Legal Specialization since 1988.
Under her direction, our law firm successfully handles a wide spectrum of complex family immigration to employment-based cases.
Each year, our attorneys and support staff go through many hours of training to remain informed of the latest developments in the law.
INTEGRITY & REPUTATION: Compassion that goes beyond the call of duty
We are advocates for our clients, but we follow our founder's tireless dedication for community work. We believe in legal advocacy but also in taking the latest information to the community through seminars, articles, and blogs. We also engage in political advocacy to make our world a better place for immigrants.
Margaret A. Donnelly received the Presidential Community Service Medal from the League of United Latin American Citizens of the United States (LULAC).
She was nominated for the The Right Livelihood Foundation Award of Sweden, known as the alternative Nobel Peace Prize, for her community work.
Because of her spotless reputation, she was appointed to the City of Dallas Ethics Advisory Commission where she served for several years.
She has been instrumental in the creation and development of several legal services centers that have served the indigent.
She was a weekly columnist for many years for La Estrella/The Fort Worth Star Telegram, "The Latest in Immigration," in which she kept the community informed of the latest developments and trends in the law.
Taking our experience and knowledge to the global community. Our founder is a passionate advocate of global education. She is demand as a lecturer in Immigration Law in foreign universities.