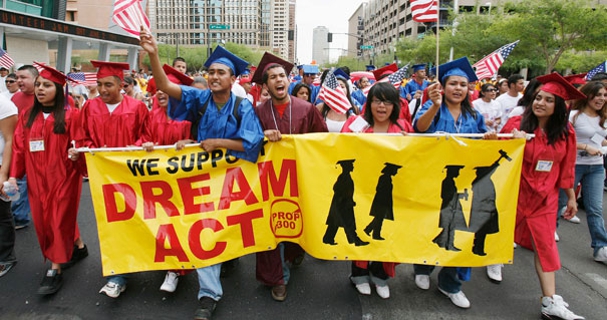 You have lived in Texas since you were two years old. You haven't left the state since that time. You have a close family, most of whom live nearby. Every Sunday after church, you eat a big lunch with your sisters and brother, cousins and aunt. You play soccer. You were the salutatorian at your school, and your plan is to become a doctor or a medical researcher. You can't decide if you want to help people one-on-one, or if you want to research cures for diseases so they won't need a doctor in the first place. You desperately hope you're able to pursue your goals, but you worry that you won't be allowed the chance.
You will be allowed to pursue your American Dream unless everything you love and hope for is stolen from you. Right now, politicians are plotting to rid the country of you and others like you. When your mother – who passed away two years ago – brought you here to protect you from the gang that murdered your father outside their home in El Salvador, she didn't know the proper procedures to make sure you had permission to be here. She just wanted to keep you alive. What kind of mother would she have been if she hadn't protected you when she knew you were in great danger? She did what a mother is supposed to do. She protected you. Your little sisters and brother were born in Texas, so they don't have the same problem that you do. You, alone, may be forced to leave your family, friends, and aspirations behind. You, alone, may be forced out of the country to live in a place where you know no one, have nothing, and have no prospects for the future.
Because there are more than 750,000 young adults who are in this situation, we call on President Trump to make a just, compassionate decision about their futures. Not only will these individuals be affected by such a decision, but the countless Americans who love them will also be affected. Through our schools, we have already invested in their lives. Besides the fact that it's inhumane to destroy lives, why throw away such an investment?
What decision will President Trump need to make in order to protect these individuals? He will need to take a courageous stance against the 10 attorneys general who, on June 29, sent a letter to the President threatening to sue the administration if the White House does not phase out Deferred Action for Childhood Arrivals (DACA) by September 5 of this year. DACA is an Obama-era program that gives temporary legal status to young adults who were brought to the U.S. when they were children so they may stay here to work, go to school, and live their lives as they've always known them. In response to the June 29 letter, Department of Homeland Secretary John Kelly told a meeting of Hispanic lawmakers that "he doesn't expect DACA to survive a court challenge." Without President Trump's actions, we may see a tragic exodus of beloved, promising young individuals from this country.
In addition to asking for the President to stand up for DACA, we also ask Congress to support a bipartisan effort to revive the long-stalled DREAM Act which will also protect these individuals. South Carolina Republican Senator Lindsey Graham and Illinois Democratic Senator Dick Durbin will soon re-introduce a version of the DREAM Act, offering a lifeline to young immigrants who are likely to lose their special protected status because of the court challenge by the 10 attorneys general.  Immigration advocates have sought to pass the bill for more than a decade, but members of Congress have never been able to get enough support to pass the measure. There is a new urgency to pass the measure now that the fate of DACA is in question.
Not only is the fate of these young adults in our leaders' hands, but also the identity of our nation is in question. Are we a nation that takes "Love your neighbor" seriously? Are we a nation of compassionate, understanding individuals who get why it's not OK to kick out people who broke no laws and only know our country as home? Are we still a nation of liberty and justice for all? Or have we become a harsh, self-interested nation that shows no mercy? That doesn't sound like the America that most of us claim.
Join us in raising your voices in support of DACA and a new DREAM act. Contact your leaders and let them know how you feel about this subject. Contact leaders here: https://www.usa.gov/elected-officials