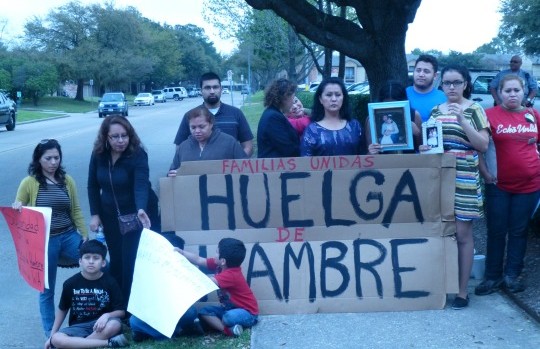 When you think of what you most value about our country, what comes to mind? Most of us would say our freedoms. Freedom of speech and freedom of religion. The freedom promised by a justice system that says we are innocent until proven guilty. The freedom to participate in our democracy and protest when we disagree.
In this week's news, the exercise of such freedoms were exemplified by the Adelanto and Hutto immigrant detainees who spoke out against injustice and protested unfair treatment while awaiting the opportunity to join our country. Hundreds of men launched a hunger strike at an immigrant detention center in the desert city of Adelanto, California, making it the third immigrant detention facility in the United States where protesting detainees have refused food in recent weeks. Reportedly, hundreds of women at Texas' Hutto detention center went on hunger strike, as well, in solidarity with the Adelanto men.
In a three-page, hand-written note obtained by ThinkProgress, the hunger strikers called on the GEO Group (a private Florida-based entity that has a contract with the federal government to run Adelanto) to provide them with better medical and dental care, to offer better food, and to treat them with respect. They also suggested that they should be able to lodge complaints with a grievance coordinator who does not work for the GEO corporation.
"We are detainees and not prisoners," the letter reads, in part. "We are humans who have the misfortune of being detained. We also respectfully and humbly ask that no retaliation be taken upon any of us detained here in Adelanto by any GEO or ICE staff in our right to unite for a common cause and to protect one another in our peacefull [sic] protest and demonstration."
The Adelanto center was recently expanded by 650 beds despite protests from more than two dozen members of Congress over alleged medical neglect at the facility.
A letter sent to ICE by members of Congress in July highlighted nearly a dozen cases of supposed neglect, including the 2012 pneumonia death of a Mexican immigrant named Fernando Dominguez. An inspection report that year by the Department of Homeland Security said that Dominguez "received an unacceptable level of medical care" at Adelanto, and that his death could have been prevented.
Adelanto has a long history of abuse allegations. In the past 15 months, there have been at least four incidences of extreme physical abuse by GEO staff, including a confirmed death and a miscarriage, according to a documentary released on Friday by CIVIC and Film Bliss Studios.
In the documentary, a former GEO Group officer criticized the facility for its "overcrowding conditions" and recounted seeing two Muslim men "get arrested and put in segregation for simply praying." The officer said that GEO officers were "not trained for anything" and that he had to learn everything on his own.
Raúl Ernesto Morales Ramos, a 44-year-old Salvadoran immigrant who had been detained at Adelanto for four years (four years!) experienced "unusual bleeding" while detained at Adelanto. He died three days later at the Palmdale Regional Medical Center. And in 2012, an immigrant detainee named Fernando Dominguez Valdivia died from bronchopneumonia without receiving adequate medical attention. Valdivia's death was deemed preventable, according to a later investigation from the U.S. Office of Detention Oversight.
In addition to the protests at Adelanto and Hutto, there have been two other hunger strikes at U.S. immigration detention facilities over the past several weeks. On October 14, 54 South Asian men refused food and water at the El Paso detention center in Texas. Five days later, 14 South Asian men joined in solidarity at the LaSalle Detention Center in Louisiana.
The strikes at El Paso and LaSalle concluded last weekend. However, Jan Meslin, the director of social change development at Community Initiatives for Visiting Immigrants in Confinement (CIVIC) visited the two facilities while the hunger strikes were still ongoing and spoke with detainees who were weak after refusing food for nearly two weeks. "It made me ashamed of my country," Meslin said.
Without a doubt, the detainees who have spoken up in defense of their freedoms and rights must have felt intimidated to do so, fearing negative consequences while at their respective detention centers and in regards to their pending immigration cases. But they did it anyway. They embraced the spirit of revolution and protest with which our forebears sculpted the country we love today.
Like our ancestors, the detainees have risked so much to create better lives for themselves in this country. Like us, they understand the values upon which this country was founded. Some of them are refugees and immigrants who will eventually be granted to legal right to stay here. Some will be turned away. However, today let us honor all of them for their bravery. We need more citizens like them who are willing to stand up for our rights when they're threatened with erosion. Perhaps the actions of these immigrants will serve to remind us how to exercise the American spirit.
As Americans who believe in liberty, let us join the detainees in asking that they be treated with respect. Our system is locking away people who haven't been proven guilty and who – in asylum cases – are supposed to be able to receive protection and legal rights here. For these people, is our system promoting justice and freedom? Please speak up for those among us who most need protection.
If you have any questions about our immigration system or would like to schedule a consultation, please contact us today.