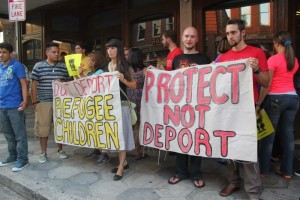 If you've been watching the news lately, then you know that President Obama's executive action on immigration, announced last November, was temporarily blocked by a federal judge in Texas. The executive action would helps DREAMers (certain undocumented immigrants who were brought to the US as children) and their parents by removing DACA's age cap (applicants currently have to be under the age of 31) and creating another program called Deferred Action for Parents of Americans and Lawful Permanent Residents (DAPA), which would provide deportation relief to parents who have children who are citizens or have green cards.
The U.S. Department of Justice is appealing the ruling that is blocking these measures from taking effect. Still, if you or loved ones stand to benefit from these executive actions, you are probably wondering what to do. On TV, you may have heard that these measures have been denied and do not exist. I am here to tell you, do not believe everything you hear on TV.
Eligible immigrants can still apply for or renew their DACA status under the original 2012 DACA program, and advocates are urging families to be ready to apply for the DAPA program as well as the expanded DACA program.
For now, many DACA and DAPA-eligible immigrants are being released instead of deported. But, you must be prepared and protect yourself. You need to get a letter of representation from an experienced immigration attorney.
Why? Because if you find yourself in the custody of Immigration and Customs Enforcement (ICE), you may not know what to do to best help yourself.  Although ICE has rules and regulations to monitor their procedures, there are stories of ICE officers unduly pressuring individuals to sign their departure from the United States.
Many of the people that walk through our doors often share their experiences where ICE agents allegedly intimidated them into signing their departure before ever given the opportunity to consult an attorney.  It is not hard to imagine that some of these people should have been entitled to relief but are never given the opportunity to seek the advice of an attorney to help them with this process.  This relief may be a petition by a qualified relative who is a U.S. citizen or a lawful permanent resident.  Often, the individual has rights to get his green card due to an old family petition but the individual has been misinformed and believes he lost those rights. And the list goes on.
As well-versed as an ICE official may be about deportation or removal, he is not trained in all phases of immigration law. A representation letter from a competent immigration attorney can be of tremendous help in defining applicable law. This letter is a document that you can present to ICE officers or local officers to secure your ability to get the help you need to get out of custody and back to your family as quickly as possible.
There are several key components to the representation letter.  One is the language indicating the method of obtaining a green card.  This is helpful in situations where local enforcement stops you.  In their discretion, they may release you knowing you are in the process of getting the card.  What is most important, however, is the language used to ensure that ICE officers know you are not going to sign anything without consulting your attorney.
It is best you know your rights and when you do not, the letter of representation can state them for you. This letter may save your life because, as everyone knows, you will leave your children, spouse and job behind if you are deported. It also may save you from returning to a violent environment in your homeland.
This letter has proven its value to my clients for many years. For example, the Legalization Act of 1986 took six years to be approved by Congress. Those who had my letter of representation were able to avoid deportation and obtain amnesty in 1987.
If you are an undocumented immigrant and you haven't yet gotten your letter of representation, contact us today to schedule your appointment.