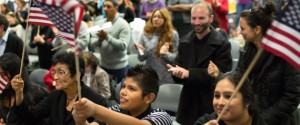 How do you feel about President Obama's Immigration Accountability Executive Actions?  For so many of us who care about immigrants in this country, the President's November 21 speech is cause for celebration. We fought for far too long for immigration reform without seeing any changes come out of the halls of Congress.  For those of us who are immigrant advocates, this long-time stalemate has been frustrating. For undocumented immigrants who have been hiding in the shadows, ever afraid that their lives and families may be lost to them at any moment, the wait has been heartwrenching.
That is why we were so moved by the executive order and Thursday's speech. The President's words, "We shall not oppress a stranger, for we know the heart of a stranger: We were strangers once, too," reminded us of where we have been and who we are becoming as individuals and as a nation.
The President's executive order is not an ultimate victory for immigrants. There are still millions of people who remain in the shadows. We need our leaders to take further action on immigration reform. However, today we celebrate the only real progress we have seen in years on the immigration front. Five million people stand to benefit from the executive order, and for that, we are grateful.
The Executive Order
The President's Immigration Accountability Executive Actions give more options for international businesses, investors, students and others who are not currently authorized to live and work in the United States.
Highlights of the order:
Enhances options for foreign entrepreneurs. The Department of Homeland Security (DHS) will expand immigration options for foreign entrepreneurs who meet certain criteria for creating jobs, attracting investment, and generating revenue in the U.S., to ensure that our system encourages them to grow our economy.  

Strengthens and extends on-the-job training for STEM graduates of U.S universities. In order to strengthen educational experiences of foreign students studying science, technology, engineering, and mathematics (STEM) at U.S. universities, DHS will propose changes to expand and extend the use of the existing Optional Practical Training (OPT) program and require stronger ties between OPT students and their colleges and universities following graduation.

Streamlines the process for foreign workers and their employers, while protecting American workers. DHS will clarify its guidance on temporary L-1 visas for foreign workers who transfer from a company's foreign office to its U.S. office. Plus, the Department of Labor will modernize the labor market test that is required of employers that sponsor foreign workers for immigrant visas while ensuring that American workers are protected.

Ensures that individuals with lawful status can travel to their countries of origin.
The undocumented parents of children who are American citizens or have green cards are protected from deportation and eligible for green cards for at least three years. Under this provision, the children do not have to be minors, but the parents must pass criminal and national security background checks and must pay taxes.  

The deadline for the Deferred Action for Childhood Arrivals program (DACA) is extended. DACA shields from deportation minors who were brought here illegally as children (called DREAMers). Previously, the children in question had to have arrived in the United States prior to 2007. The executive order extends the deadline to 2010. Plus, the administration is eliminating the age cutoff for DACA, which had previously been open only to people under 31.
The President is also directing the government to fundamentally reshape its priorities for enforcing immigration laws by focusing more intensely on removing criminals rather than families while also overhauling immigration courts.

Changes will be made to the high-skilled visa system. For example, those who are working under H-1B visas will be able to change jobs more easily and get employment visas for their spouses.

The order prioritizes border security.. The President's actions increase the chances that anyone attempting to cross the border illegally will be caught and sent back. Continuing the surge of resources that effectively reduced the number of unaccompanied children crossing the border illegally this summer, the President's actions will also centralize border security command-and-control to continue to crack down on illegal immigration.
If you or someone you know may stand to benefit from the directives of the executive order, it is extremely important that you contact a lawyer who specializes in immigration. The ability to interpret changes in immigration law depends on the depth of knowledge and experience the attorney has of the subject matter in the first place. Margaret A. Donnelly, P.C. has been successfully serving immigrants for over thirty years. Please contact us today to schedule your free consultation.