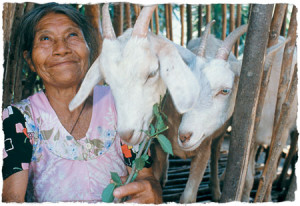 All too often, our conversations regarding immigration to the U.S. center on effects rather than causes. We talk about deportation, a consequence of undocumented immigration. We talk about the impacts of immigration on our economy, job market and social programs. We talk about the security of our borders.
But we don't spend enough time addressing the reasons why immigrants – documented and undocumented – need to come here in the first place. What if, instead of fearing our neighbors and the impacts they may have on our country when they come to live here, we begin our conversation with love and understanding? What if we think in terms of opportunity instead of punishment? What if we think about how we can be partners and collaborators rather than competitors and enemies?
For the past two years, Margaret A. Donnelly, P.C. has supported Heifer International because it works to address the root causes of the economic problems which lead people to leave their home countries. Heifer International works to create opportunity and inspire self-sufficiency in some of the poorest regions of the world. They don't simply hand out food or clothes; Heifer International gives people the tools they need to create more abundant lives. Instead of a cup of milk, they provide a cow which will give milk for years to come. Instead of a jar of honey, they give bees and hives which will provide a long-term supply, and so on.
By focusing on gender equity, education and training, entrepreneurship, and sustainable farming practices including organics and beekeeping, this organization is empowering small farmers around the world to take care of their families and the earth. This sort of empowerment loosens the grip of economic slavery on those who would otherwise have no resources with which to create better lives or a better world.
Perhaps the most interesting aspect of Heifer International's program is their principle, "Passing on the Gift." This means families who receive training are directed to then teach other families. They are also asked to pass on the first female offspring of their livestock to another family. This "extends the impact of the original gift, allowing a once impoverished family to become donors and full participants in improving their communities. In some places, 22 generations of Heifer animals can be traced. On average, Passing on the Gift lasts for at least nine generations, no matter the project.
The evolution from gratitude to generosity is a powerful transformation. Social growth comes through training in our cornerstones for just and sustainable development."
Margaret A. Donnelly, P.C. is grateful that organizations such as Heifer International exist, and we are glad that they have given us the opportunity to provide cows to families in need in Central and South America.
We will continue our support for entities that lift up our small farmers and budding entrepreneurs, inspiring them to change their lives for the better. In this way, by empowering those who currently have no power, we will see the changes we want to see in this world.  
 If you or someone you know needs immigration advice, please contact us today to schedule a consultation.