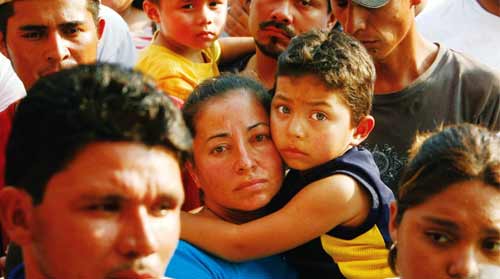 We just received a message (see below) from America's Voice Education Fund regarding a woman in our community who desperately needs our help. We encourage you to take action on behalf of her and her family!
Thank you.
Angelica Maria Saldaña could be deported tomorrow. She needs our help right now!
Angelica is a loving mother of three U.S. citizens. Even though she's lived in Texas for 14 years, ICE is set to deport her within a matter of hours. You live in the same ICE region as Angelica, and your calls to let her stay with her kids are her only hope.
Please call ICE Houston Assistant Field Director George Sterling at (281) 774-4816 and tell him to stop Angelica's deportation — her family needs her here!
When you call, here's what you can say:
I'm calling to urge Assistant Field Office Director George Sterling to grant a stay of removal to Angelica Maria Saldaña (A#088-837-236). She has resided in Houston for 14 years and is a hardworking mother of three U.S. citizens. If she is deported, her children will be devastated! She's the kind of person that we should be welcoming, not deporting.
Thank you!
Matt Hildreth
America's Voice Education Fund